How to decompile code
XAML Spy integrates with third-party tools for decompilation services. Using the decompilers you can directly decompile any assembly or type from within XAML Spy. The supported decompilers are dotPeek by JetBrains, the open source ILSpy, JustDecompile by Telerik and .NET Reflector by Red Gate Software.
Configuring decompilation
You'll need to specify the location of least one of the supported decompilers. Decompiler configuration is found in the XAML Spy settings (settings > decompilers). For each of the supported decompilers, you can provide the location of the executable path on your local machine. XAML Spy verifies the executable when selected.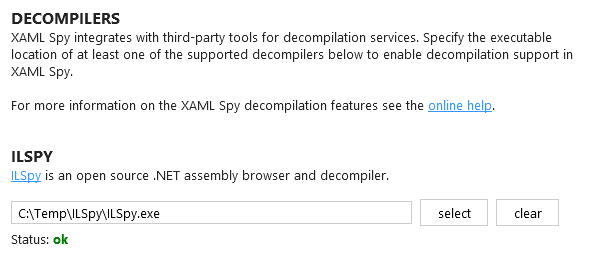 Decompilable content
The following objects are decompilable in XAML Spy
The assemblies found in the package and the package itself
The assemblies found in the isolated storage
The type of a visual in the user interface.
The decompilation features are accessed by right-clicking any of the objects mentioned above and selecting the 'open with [decompiler]' option in the context menu.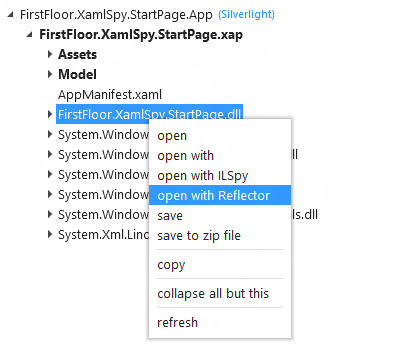 XAML Spy will launch the selected decompiler and pre-load it with the requested assemblies and its references. In the user interface you can directly decompile the type of the selected visual. The decompiler is launched and the visual type is automatically selected. (this feature is not supported by JustDecompile, the option is therefore disabled).