Download
XAML Spy May 2013 Update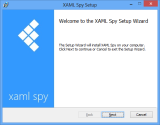 Date: May 13, 2013
Version: 1.1.9.0
Size: 4,76 MB
Type: Windows Installer File (.msi)
Note: the XAML Spy setup package is digitally signed with a code signing certificate where the publisher is identified as First Floor Software. Please verify the publisher to ensure you have downloaded genuine software.
XAML Spy is commercial software. You can evaluate the fully functional product for 21 days. After the evaluation period you'll need to purchase a license, or uninstall the product. Once a license key has been purchased and entered, XAML Spy will work as a full version.
XAML Spy and Silverlight Spy can be installed safely side-by-side.
Older versions
Looking for an older version of XAML Spy? Download links for older versions of XAML Spy are available in the release history document.
Related
Modern UI for WPF, a set of controls and styles converting your WPF application into a great looking Modern UI app. Modern UI for WPF is an open source spin-off of XAML Spy. See http://mui.codeplex.com for more info.