Download
XAML Spy July 2015 Update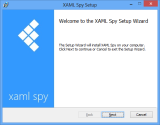 Date: July 30, 2015
Version: 2.8.0
Size: 5,16 MB
Type: Windows Installer File (.msi)
Note: the XAML Spy setup packages are digitally signed with a code signing certificate where the publisher is identified as First Floor Software BV. Please verify the publisher to ensure you have downloaded genuine software.
XAML Spy is commercial software. You can evaluate the fully functional product for 21 days. After the evaluation period you'll need to purchase a license, or continue to use XAML Spy Express, the free edition, with limited features. Once a license key has been purchased and entered, XAML Spy will work as a full version.
Related downloads
XAML Spy v1
Looking for XAML Spy version 1? The XAML Spy v1 download is available here. Download links for older versions of XAML Spy can also be found in the release notes.